Lancia Gamma Consortium
---
A Short History
---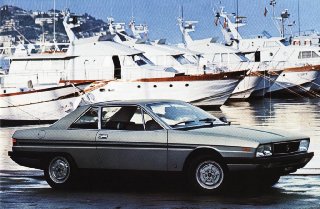 Series 1 Gamma Coupe
The Gamma was launched in Italy in 1976, although the first right-hand drive models didn't come to Great Britain until 1978. The early Series 1 (S1) Gammas were available as a 4-door saloon and a 2-door coupe with 2 litre and 2.5 litre engines, although only the latter was officially imported here in the UK, the 2000 being primarily for the Italian home market.
Although both were designed by Pininfarina, only the coupe was assembled on their production line (alongside the Ferrari 400), the saloon being a purely Lancia-built product. All early S1 cars in Great Britain had carburettor-fed engines, manual gearboxes, 6Jx14" alloy wheels of a flat-faced, 5-slot design with velour trim (leather optional). Modifications introduced during the first series were mostly mechanical, including revised camshaft belt tensioners and changes to the cooling system. The interior of the later S1 coupes was changed to a cloth with 'L' motifs. This was also used to replace the vinyl trim to the seat backs, doors and the rear side-panels.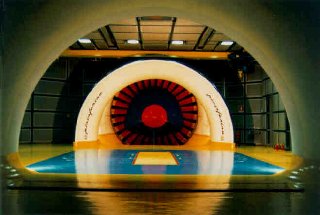 The Pininfarina wind tunnel, opened in 1972, was used to design both Gamma models
By 1980, the Series 2 (S2) Gamma had been announced in Italy, although S1 Gammas were still for sale in the UK until 1982, when the first S2 models were imported. The most obvious changes externally were the adoption of the Delta- style 'shield' grille and new 6Jx15" alloys of a "starburst" design with 15 holes.
Mechanically, Bosch fuel injection was fitted to all UK models, and the revised engine internals included larger diameter valve stems (also used on later S1 cars) from 8 to 9mm, revised pistons and connecting rods and 'softer' camshaft profiles. Maximum power output was unchanged at a quoted 140 bhp (DIN), but the spread of torque was greater and fuel economy improved (allegedly!).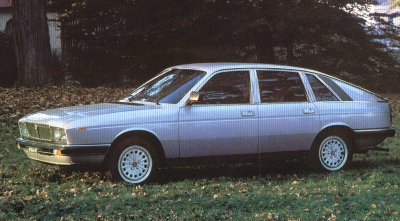 Series 2 Gamma Saloon

By 1983 an automatic gearbox became available, and in practice all later S2 Gammas came with auto 'boxes. However, many have since been converted to manual transmission. The interior of both the saloon and the coupe was revised, with new instruments, hand-stitched vinyl covering to the dash cowl and console, a new rounded gear lever and a new steering wheel. The interior of the coupe was otherwise similar to the earlier models, using the 'L' cloth, but S2 saloons had a new cloth fabric for the seats and the headlining. Central locking was fitted to all UK S2 Gammas, but only a handful are known to have sliding steel sunroofs.
Go to the

Next Page
---